Vol. 20 No. 2 (2022): Theological Reflections: Eastern European Journal of Theology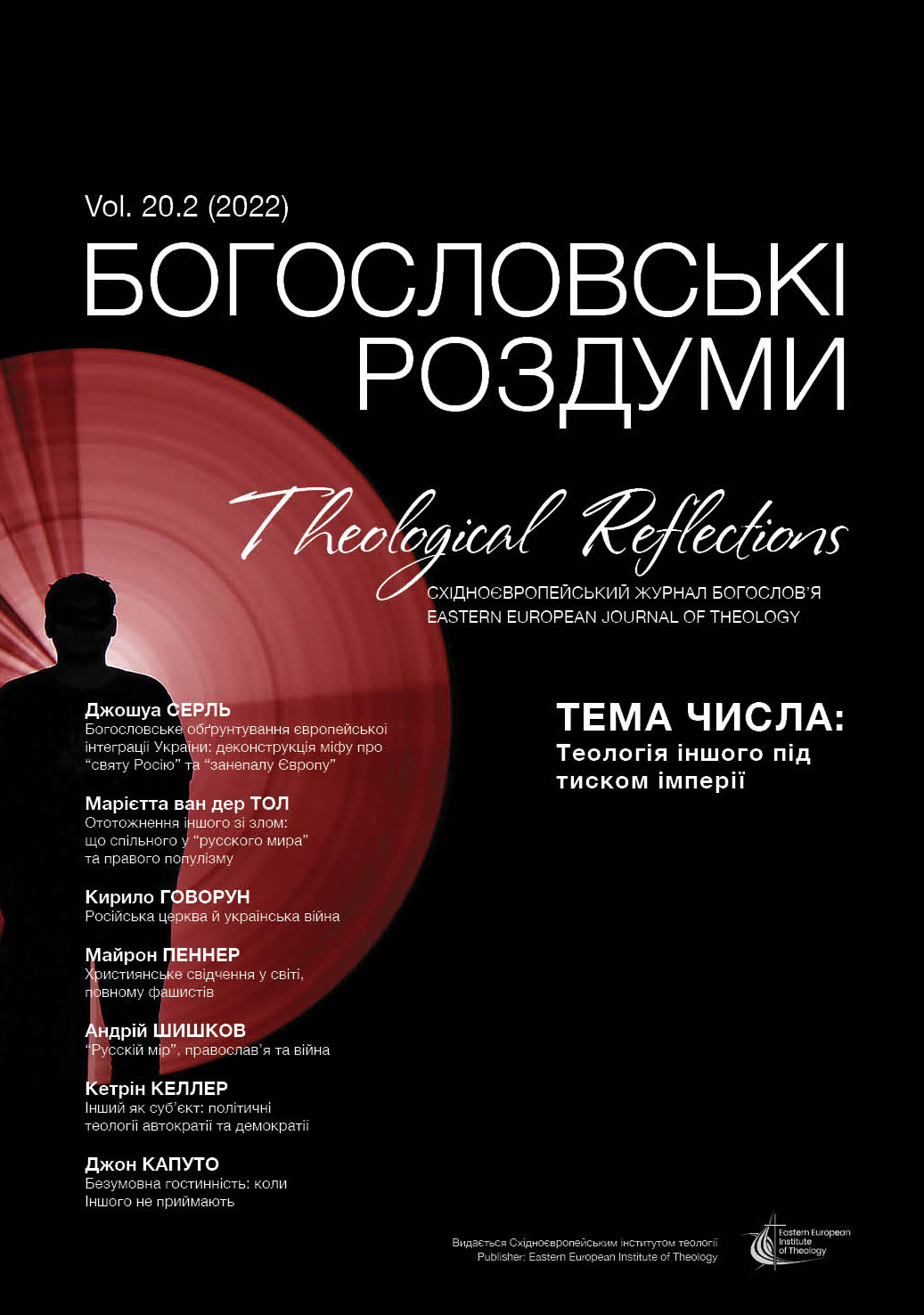 In the midst of the ongoing Russian-Ukrainian war, the question of embracing the other is gaining new urgency and tone: is the other always a guest to be welcomed, or is the other also a threat to be stopped? To answer this question, the Eastern European Institute of Theology organized the Summer School of Theology 2022, entitled The Other under Pressure of the Empire, which brought together prominent philosophers and theologians to support Ukraine. The School welcomed participants and speakers from more than ten countries: Ukraine, the USA, Canada, Germany, Poland, Austria, Romania, Belgium, the Netherlands, England, Estonia, Kyrgyzstan, Moldova, and others. Speakers of the school were prominent philosophers and theologians, such as John D. Caputo, Catherine Keller, and Miroslav Volf.
In this journal issue, we publish some of the School's presentations translated into Ukrainian. Some of the speakers, namely Marrieta van der Tol, Myron B. Penner, Andrey Shishkov, Catherine Keller, and John Caputo are published in Ukrainian translation for the first time. We sincerely thank them for entrusting us with their writings. In addition to the published papers, this issue contains an article by Andrii Shymanovych in English, in which the author explores the anti-Western and radically anti-ecumenical theology of the Greek Orthodox thinker Christos Yannaras. We also publish reviews by Petro Selskii, Vitalii Stankevych and Anatoliy Denysenko. In the closing section, we have posted the text of the appeal of representatives of Ukrainian evangelical theological educational institutions to the world evangelical community regarding the war of the Russian Federation against Ukraine, as well as press releases of key events in the evangelical theological community that took place in the fall of 2022.